MAMBA F722S APP  I2C WIFI  F50PRO 3-6S Flight Controller Stack
Diagram Link From Help Centre Link
Note:Since STM32F722 heat large , please leave at least 5mm interspace at both sides of the FC with nothing covered to make sure a good air circulation.
Update Details:

BT to WiFi
USB power supply can use receiver, OSD
Add a group of I2C pads (SCL SDA)
Add inverter Dual-Way TX serial port
Add 2812 LED switch function, key can turn off led
Add 4 corner LED interface to support BF led and Mamba led
Upgrade to stronger type-C, optimize pad position
FC Specifications

MCU: 216MHz STM32F722RET6 32BIT
IMU: MPU6000
Barometer: No
OSD: BF OSD
Blacbox: 16M Flash Memory
Uarts: 6Set
ESC Soft: Dshot300/600/1200
ESC Telemetry: RX6
LED indicator: Blue&Orange for FC Status,Green 9V,White 5V,Red 3.3V

LED Controller:BF LED/MB LED( 4 Set 2812 LED)
WIFI: SpeedyBee APP 
Smartaudio: Yes
Buzz: Yes
Input: 3~6S Lipo (12.6~25V)
TVS Protection: Yes 
BEC: 5V 2.5A & 9V 2A (Max 3A)
MOUNTING: 30.5mm/M3 WEIGHT: 9g
Supply : 
8pin sh1.0 *1
Smartaudio: Yes
Buzz: Yes

Input: 3~6S Lipo (12.6~25V)
VTS Protection: Yes


ESC Specifications
F60PRO
INPUT VOLTAGE: 3~6S Lipo (12.6V~25V)
CONTINUE CURRENT: 75A×4
BURST CURRENT: 60A (10S)
BEC: NO
ESC Dshot300/600/1200
MOUNTING: 30.5mm/M3
Supply : Panasonic High Frequency 470uF/35V    

Mounting: 30.5×30.5mm,Φ3
Dimensions: 
Weight: 22g

Including
1×MAMBA F722 APP <WIFI>  F60PRO  STACK


About SpeedyBee Function:
For  WIFI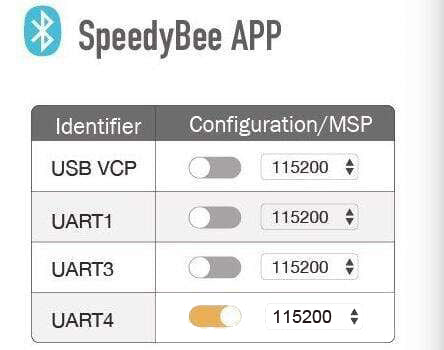 For  BlueTooth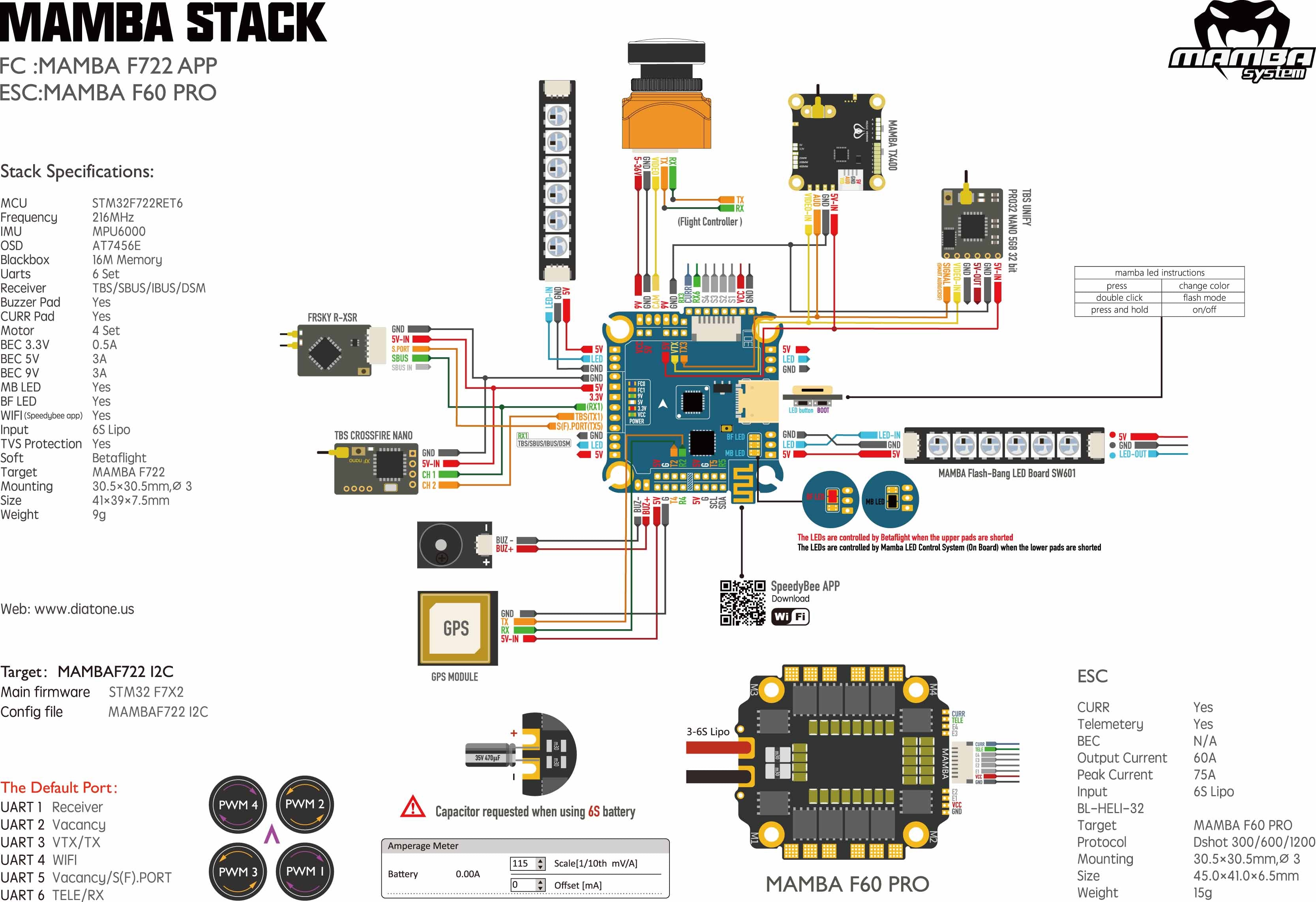 Shipping & returns Carriers: Full Send FPV uses the United States Postal Service for most shipments, however, we may use other carriers to deliver your order (typically for lipo battery shipments).
UPS Shipping: Note, that UPS does not deliver on Saturdays. We recommend using USPS for all shipments, but UPS is an available option.
Lost Packages: Full Send FPV is not responsible for lost packages. No refunds will be provided if your package is lost in the mail system. It is our recommendation to select the Priority Mail option with the United States Postal Service to ensure that packages are not lost, and that you have at least $50 in insurance. Priority Mail has the most reliable package tracking to ensure packages arrive at their specified destination.
Shipping Time & Delays: Unless otherwise indicated, orders received prior to 4 pm with payment received will usually ship that day, unless it is a holiday or non-business day.
Delivery timeframes provided are estimates and will depend on the carrier. Full Send FPV will not be held responsible for any delays caused by a mail carrier or local postal service.
CLICK HERE
for the full Shipping.& Returns Policy